In the 2018 comedy Tag, Annabelle Wallis plays the Wall Street Journal reporter Rebecca Crosby.
She is an English actress who has had notable roles in both British, United States and Portuguese productions.
In Showtime's period drama The Tudors, which aired in 2009-2010, she played the historical character Jane Seymore, who was Queen of England from 1536 to 1537 as the third wife of King Henry VIII.
In the BBC drama TV-show Peaky Blinders, which aired in 2013-2016, we can see Wallis as Grace Shelby née Burgess, an Irish Protestant woman and former undercover agent. Peaky Blinders is a crime drama primarly set in Birmingham in the aftermath of World War I.
On the big screen, Wallis starred as Mia Form in the 2014 supernatural horror film Annabelle, a prequel to The Conjuring (2013). In the 2017 action adventure The Mummy, Wallis starred alongside Tom Cruise in a largelly panned reboot of The Mummy franchise, where she played an archeologist connected to U.S. Army sergant Nick Morton (Cruise).
Short facts about Annabelle Wallis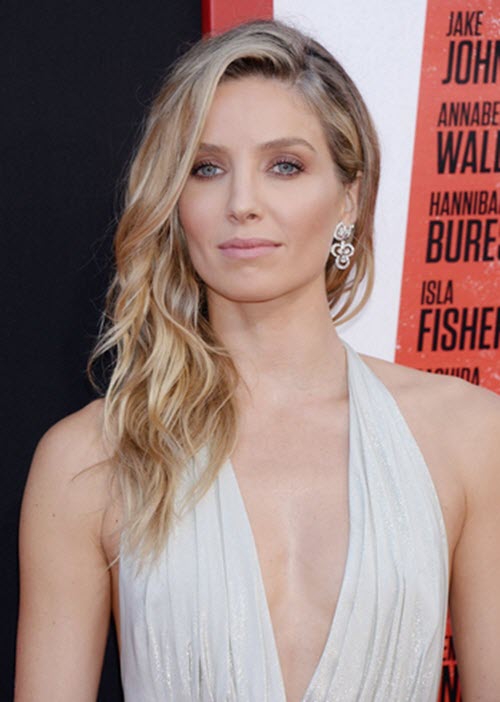 Name: Annabelle Francis Wallis
Born: In Oxford, Oxfordshire, England on 5 September, 1984
Years active: 2005 – present
Background
Annabelle Wallis was born in Oxford on 5 September, 1984.
She is English, but also speaks fluent Portuguese, French and Spanish.
Wallis comes from a family of actors. The Irish actor Richard St. John Harris (1930 – 2002) was her materal uncle, and his sons – the actors Damian Harris, Jared Harris and Jamie Harris – are thus her cousines.
TV career
When the Icelandic actress Anita Briem quite the Showtime drama series The Tudors after completing its second season, her role as Jane Seymore was recast with Wallis. She appeared in several episodes in the third season, and then made a guest appearance in a dream sequence in the fourth season.
In 2013-2016, Wallis starred as Grace Shelby née Burgess in the BBC crime period drama Peaky Blinders.
Film career
Wallis' film career started in Portugal, where she appeared in several short films before moving to London to pursue a career in British films. In London, she worked doing advertisements, and found an agent.
In 2005, she was cast in the leading role of Sophie Besson / Savirti Pradhan in the Bollywood film Dil Jo Bhi Kahey… (Whatever The Heart Says…).
After appearing in W.E. (2010), Wallis had a minor role in X-Men: First Class (2011). She then went on to star in the movies Annabelle (2014) and The Mummy (2017).
Filmography
| | | |
| --- | --- | --- |
| Year | Title | Role |
| 2005 | Dil Jo Bhi Kahey… | Sophie Besson / Savirti Pradhan |
| 2006 | True True Lie | Paige |
| 2007 | Steel Trap | Melanie |
| 2008 | Body of Lies | Hani's Girlfriend in Bar |
| 2009 | Right Hand Drive | Ruth |
| 2011 | W.E. | Arabella Green |
| 2011 | X-Men: First Class | Amy |
| 2012 | Snow White and the Huntsman | Sara (not creditet) |
| 2013 | Hello Carter | Kelly |
| 2014 | Annabelle | Mia Form |
| 2015 | Sword of Vengeance | Annabelle |
| 2016 | Grimsby | Lina Smit |
| 2016 | Come and Find Me | Claire |
| 2017 | Mine | Jenny |
| 2017 | King Arthur: Legend of the Sword | Maid Maggie |
| 2017 | The Mummy | Jenny Halsey |
| 2017 | Annabelle: Creation | Mia Form |
| 2018 | Tag | Rebecca Crosby |
| 2019 | Boss Level | Alice |
| TBA | Warning | TBA |
Television
Year
Title
Role
2005
Jericho

(Episode: "The Killing of Johnny Swan")

Lizzie Way
2007
Diana: Last Days of a Princess

(Television film)

Kelly Fisher
2009
Ghost Town

(Television film)

Serena
2009–2010
The Tudors

(5 episodes)

Jane Seymour
2010
The Lost Future

(Television film)

Dorel
2011
Strike Back: Project Dawn

(2 episodes)

Dana Van Rijn
2011
Pan Am

(4 episodes)

Bridget Pierce
2013–2016
Peaky Blinders

(Main role in series 1, 2 and 3)

Grace Burgess/Shelby
2014
Fleming: The Man Who Would Be Bond

(2 episodes)

Muriel Wright
2014
The Musketeers

(Episode: "A Rebellious Woman")

Ninon de Larroque
2018
Star Trek: Short Treks

(Voice acting in the episode "Calypso")

Zora
2019
The Loudest Voice

(Miniseries)

Laurie Luhn