Ed Helms (born 1974) is a United States actor, voice actor, comedian, musician and singer, who played Hogan "Hoagie" Malloy in the 2018 film Tag.
Helms is chiefly known for his role as Stuart Price in The Hangover movies, and the character Andy Bernard in the U.S. Version of the TV-series The Office. He has also worked as a correspondent on The Daily Show.
Short facts about Ed Helms
Name: Edward Parker Helms
Born: In Atlanta, Georgia, United States on Januari 24, 1974
Years active: 2002 – present
Background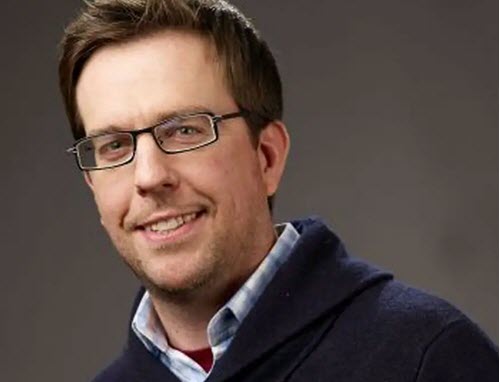 Edward Parker Helms was born in Atlanta, to Johan A. Helms and Pamela Ann Helmes (née Parker). His mother worked as a school administrator, and his father – who was a lawer and a Navy veteran – worked as an insurance executive. Ed grew up with two older sibblings; his sister Susan Carol Helms and his brother Paxton Helms.
At the age of 14, Edward underwent open-heart surgery to correct a severe congenital heart defect.
Edward attended The Westminster Schools, a private school in Atlanta, from which he graduated high school in 1992. (His future colleege Brian Baumgartner also attended this school, and graduated one year before Edward.)
After high school, Edward Helms studied at Oberlin College, a private liberal ars college in Oberlin, Ohio. His started out with geology as his major, but changed his mind and when he graduated in 1996 it was with a B.A. in film theory and technology. During his college years, he spent one semester as an exchange student at Tisch School of the Arts, a Manhattan-based performance, cinema and media arts school which is a part of New York University.
Early work
After graduating from Oberlin, Helms returned to New York City (where he had been an exchange student) and started working as a writer and performer with sketch comedy bands, while also doing a number of other things within the world of performance – such as being a trainee film editor at the post-production facility Crew Cuts, and studying improvisation with the Upright Citizens Brigade. At Crew Cuts, he recorded some voiceover scratch tracks which eventually landed him paying gigs doing voiceover work. This in turn led him o finding a talent agent.
Career in television
The Daily Show
In the early naughties, Helms did an audition for comedic and satirical newshow The Daily Show in New York City, and got the part, which led to him working for The Daily Show from April 2002 to mid-2006.
At The Daily Show, Helms was one of the "field correspondents", and he also contributed to This Week in God and hosted recuring segments such as Mark Your Calendar, Ad Nauseam, and Digital Watch.
After leaving The Daily Show in mid-2006, he has returned several times to make brief guest appearances. He also occasionally work with the sister series The Colbert Report.
The Office (United States version)
In 2006, Helms was cast in the role of Andy Bernard in the United States version of the (originally British) mockumentary TV-series The Office. From the third season of the show, he was a series regular. In Februari 2010, he was added to the show's opening credits. Eventually, he became one of the show's producers.
Miscellaneous
Examples of other TV-shows where Helms has appeared:
The Mindy Project
Wilfred
NTSF:SD:SUV
Tanner on Tanner
Childrens Hospital
Arrested Development
Cheap Seats
Running Wild with Bear Grylls (Helms was a celebrit guest on the August 3, 2015, episode)
Weighty Decisions (a Cartoon Network show where Helms voices Neil the Angel)
Career in film
Helms is chiefly known for co-starring in The Hangover triology, where he plays the dentist Stuart "Stu" Price. The movies premieered in 2009, 2011 and 2013.
Helms also starred in the 2011 comedy film Cedar Rapids, playing the insurance agent Tim Lippe.
In the 2015 film Vacation (a spin-off of the National Lampoon's Vaction series), we can see Helms in the lead role as Rusty Griswold. Also in 2015, he starred in the Christmas comedy Love the Coopers.
Another example of a movie starring Helms is The Clapper (2017), where Helms play a man who works as a paid audience member for infomercials.
Helms has a supporting role in the controversal 2017 movie Chappaquiddick, where the plot details the 1969 incident where Massachusetts Senator Ted Kennedy drove his car into a pond, killing his passenger, the 28-year-old political campaign specialist Mary Jo Kopechne.
In the 2018 movie Tag, Helms plays one of the leading roles: Hogan "Hoagie" Malloy.
Voice acting
In 2012, Helms voice the Once-ler in The Lorax.
Helms also voiced Principal Benjamin Krupp/Captain Underpants in the 2017 Dreamworks film Captain Underpants: The First Epic Movie. Mr Krupp is a mean-spirited elementary school principal who is hypnotized into becoming a superhero.
Miscellaneous
Examples of movies in which Helms has had minor roles:
Night at the Museum: Battle of the Smithsonian
Blackballed: The Boddy Dukes Story
Meet Dave
Harold & Kumar Escape from Guantanamo Bay
Evan Almighty
Walk Hard: The Dewey Cox Story