In the 2018 comedy Tag, Isla Fisher plays Anna Malloy, the wife of Hogan "Hoagie" Malloy.
Fisher is an Oman-born and Australian-raised actress, voice actress and author, who started her acting career by appearing in commercials and two Australian children's shows as a child, and landing a role in the Australian soap opera Home and Away while still a teenager.
After successfully establishing herself in the United States, she has appeared in movies such as Wedding Crashers (2005), Confessions of a Shopaholic (2009), The Great Gatsby (2013), Now You See Me (2013), and Nocturnal Animals (2016). On television, she played a recurring role on the fourth and fifth season of Arrested Development.
Short facts about Isla Fisher
Name: Isla Lang Fisher
Born: In Muscat, Oman on 3 February 1976
Years active: 1993 – present
Background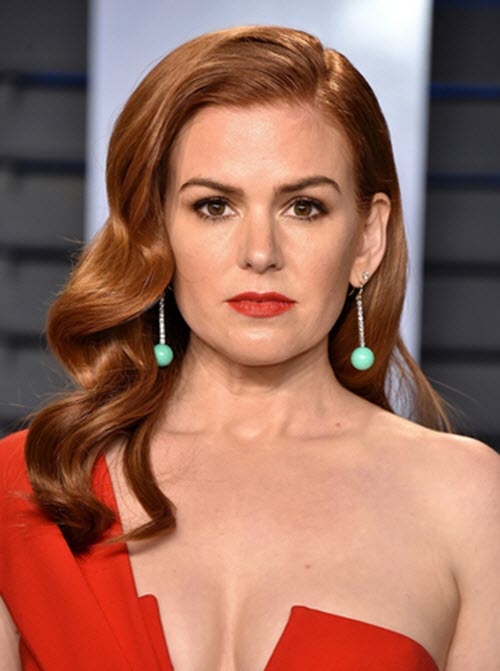 Isla Fisher was born in 1976, when her family was living in Muscat, Oman. Both her parents – Brian Fisher and Elspeth Reid – are Scottish. The family was living in Oman because the father worked there as a banker for the United Nations.
When Fisher was still quite young, the family returned to Bathgate in Scotland, before moving to Perth in Western Australia when she was 6 years old.
Fisher grew up with four siblings. She has described her childhood in Perth as very outdoorsy, and credits Australia for giving her a "laid-back attitude to life". She attended Swanbourne Primary School, and then enrolled at the Methodist Ladies' College in Perth. During her school years, she participated in school plays, including a leading role in Little Shop of Horrors.
At 21, Fisher moved to Paris where she studied physical theatre (clowning, mimodynamics and comeedia dell'arte) at École internationale de théâtre Jacques Lecoq. She appeared in pantomine performances in the United Kingdom, toured with the British musical Summer Holiday, and got a role in the London production of Così, a play by Australian playwright Louis Nowra.
TV career
Home and Away
In 1994 – 1997, Fisher played Shannon Reed in the Australian soap opera Home and Away. Her character was a confident bisexual young woman who developed an eating disorder.
Arrested Development
Fisher appeared in the fourth and fifth season of the Netflix TV-show Arrested Development.
Film career
2000-2009: Move to United States, breakthrough role, first leading role in a major feature film
Fisher's first appearance in a feature film occured in 2001, when she played one of the foreign students in the German slasher movie Swimming Pool – Der Tod feiert mit. Among her co-stars were John Hopkins and James McAvoy.
In 2002 Fisher moved to the United States and played the love interest of Shaggy Rogers in the live-action film Scooby-Doo. She then had supporting roles in a few minor movies, before returning to the world of blockbusters with the 2005 success Wedding Crashers, where she played against Vince Vaughn and Owen Wilson. The movie made over $285 million worldwide and Fisher's performance yielded her the Breakthrough Performance Award at the MTV Movie Awards.
During the second half of the noughties, Fisher appeared in movies such as London (2005), Wedding Daze (2006), The Lookout (2007), Hot Rod (2007), and Definitely, Maybe (2008). In Confessions of a Shopaholic (2009), she played the leading character – a journalist with a shopping addiction. In an interview, Fisher explained that she was "gobsmacked that anyone would give me my own movie". The film recieved lukewarm reviews, but became a commerical success, grossing well over $100 million worldwide.
2010– 2015:
Fisher appeared in several movies during the first half of the 2010s, doing everything from playing a young former prostitute (Burke and Hare, 2010) to voicing a lizard (Rango, 2011) and a tooth fairy (Rise of the Guardians, 2012).
Professionally, 2013 was a great year for Fisher as not just one but two of her movies became highly successful: The Great Gatsby and Now You See Me. In Baz Luhrmann's adaptation of the F. Scott Fitzgerald novel, she portrayed the social climber Myrtle Wilson. In the thriller Now You See Me, Fisher had considerably more screentime as the stage magician Henley Reeves / The High Priestess. Also in 2013, Fisher appeared in Life of Crime (an adaptation of the 1978 novel The Switch), which didn't do great commerically but recieved very positive reviews.
2016 – present
In 2016, Fisher starred in Keeping Up with the Joneses, and also collaborated for the first time with husband Sacha Baron Cohen in the US/UK comedy Grimsby. Both films ended up in the red commercially.
Also in 2016, Fisher appeared in the arthouse success Nocturnal Animals, where she played a woman who gets kidnapped within a novel written by one of the characters in the movie. Based on Austin Wright's novel Tony and Susan, this neo-noir thriller won the Grand Jury Prize as the Venice International Film Festival.
In the 2018 comedy Tag, Fisher portayed Anna Malloy, the dedicated and competitive wife of one of the men who are involved in a long-running game of Tag.
The following year, Fisher played alongside Matthew McConaughey, Martin Lawrence, Zac Efron, Jimmy Buffet, Snoop Dogg, and Jonah Hill in the stoner comedy The Beach Bum.
At the time of writing, Fisher is working on Greed, a satirical film directed by Michael Winterbottom where she stars alongside British actors Steve Coogan and David Mitchell.
Awards
The Best Breakthrough Performance Award at the 2006 MTV Movie Awards, for her role in the movie Wedding Crashers.
The Icon Award at the 2008 Elle Women in Hollywood Awards.
The Best Animated Female Award in 2012 from the Alliance of Women Film Journalists, for her voicing of an iguana in the movie Rango.
The Trailblazer Award at the 2016 AACTA Awards.
Books
Fisher has written several books. When she was 18 years old, two of her teen novels were published: "Bewitched" and "Seduced by Fame". Her third book, a children's novel titled "Marge in Charge" was released in 2016, and promptly followed by three sequels: "Marge and the Pirate Baby", "Marge and the Great Train Rescue", and "Marge in Charge and the Stolen Treasure".