In the 2018 comedy Tag, Jeremy Renner plays Jerry Pierce – the only one in the group who has never been tagged.
Early in the filming of Tag, Renner fractured his right elbow and left wrist in a fall during one of the action scenes. He re-shot the scene before going to hospital, and then continued working on the movie wearing two casts. The casts were digitally removed using CGI before the film was released.
Jeremy Renner (born 1971) i chiefly know for portraying the hero Hawkeye in the Marvel Chinematic Universe. He first made an uncredited appearance in Thor (2011) and later played a larger role in The Avengers (2012), Avengers: Age of Ultron (2015), Captain America: Civil War (2016), and Avengers: Endgame (2019).
Renner is also a part of the Mission: Impossible frenchise and can be see in both MI Ghost Protocol (2011) and MI Rouge Nation (2015).
Other examples of notable movies on Renner's resume are The Bourne Legacy, Hansel and Gretel: Witch Hunters, and American Hustle. He was Oscar nominated for his roles in The Hurt Locker (2008) and The Town (2010).
Short facts about Jeremy Renner
Name: Jeremy Lee Renner
Born: In Modesto, California, United States, on 7 January, 1971
Active: 1995 – present
Background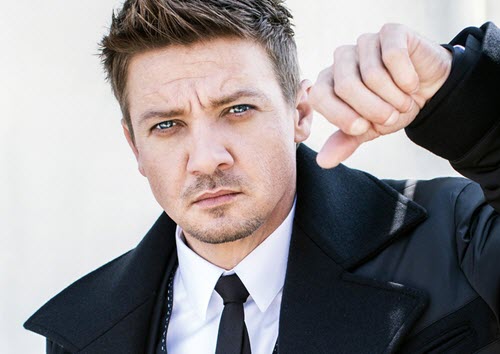 Jeremy Renner was born in Modesto to Valerie Cearley (née Tague) and Lee Renner. His family tree includes German, English, Scottish, Irish, Swedish, and Panamanian ancestors. He is the oldest of seven sibblings.
Renners father managed a bowling alley in Modesto. When Renner was ten years old, his parents (who married as teenagers) divorced.
Renner went to Fred. C. Beyer High School in Modesto. After graduating in 1989, he enrolled at Modesto Junior College where he studied criminology and computer science. It was there that he took a drama class as an elective and decided to become a professional actor.
Early career
Renner's first movie role was when he portrayed an underachieving student in the comedy National Lampoon's Senior Trip (1995). The film didn't get great reviews, but Renner went on to get minor parts in TV-shows and TV-movies, including A Friend's Betrayal where the worked alongside Brian Austin Green. Before his acting career became more stable, Renner supplemented his income by working as a makeup artist.
In 2002, Renner starred in Dahmer, a movie about the serial killer Jeffrey Dahmer. His performance got a lot of praise and earned him a a nomination for the Independent Spirit Award for Best Lead Male.
Examples of notable roles
Renner starred with Julia Stiles and Forest Whitaker in the 2005 Icelandic-American noir-inspired thriller A Little Trip to Heaven, which was largely filmed in Iceland.
Renner starred as a neo-nazi in Neo Ned. The movie won a pile of awards at film festivals, including a Palm Beach International Film Festival Award for Best Actor for Renner's performance.
Renner was given a lot of praise for his portrayal of a bomb disposal expert in the 2009 war thriller The Hurt Locker. The role earned him his first Academy Award nomination for Best Actor.
Renner was nominated for an Academy Award for Best Supporting Actor for his role in the 2010 crime thriller The Town. One of the other actors in this movie was Jon Hamm, with whom Renner would later reunite for the 2018 comedy Tag.
Renner playes the hero Hawkeye in the Marvel Universe, and can be seen in the movies Thor, The Avengers, Avengers: Age of Ultron, Captain America: Civil War, and Avengers: Endgame.
Renner is a part of the Mission: Impossible franchise and has appeared in MI Ghost Protocol (2011) and MI Rouge Nation (2015).
Renner starred in the 2013 3D movie Hansel & Gretel: Witch Hunters.
Renner was a part of the highly lauded ensemble cast in the FBI drama-comedy American Hustle. The cast was honored with the Screen Actors Guild Award for Outstanding Performance by a Cast in a Motion Picture.