In the movie Tag, Jon Hamm played Bob Callahan, one of the men involved in the annual game of tag. Callahan is the CEO of an insurance company, and when the movie starts, the Wall Street Journal reporter Rebecca Crosby (played by Annabelle Wallis) is doing a piece on him. When the game of tag takes Callahan back to his home town, Crosby follows along.
Jon Hamm's breakout role was as the advertising executive Don Draper in the highly successful drama series Mad Men, which ran from 2007 to 2015. His performance on the show earned him two Golden Globe Awards for Best Actor in a Television Series – Drama (in 2008 and 2016), and a Primetime Emmy Award for Outstanding Lead Actor in a Drama Series in 2015. He also directed two episodes of the show.
Earlier in his career, Hamm could be seen in TV-series such as Providence, What About Brian, Related, and The Divison. After the success with Mad Men, he went on to 30 Rock (2006-2013) and Unbreakable Kimmy Schmidt (2015-2019).
Hamm's first role in a feature film was as a young pilot in Space Cowboys (2000). His first leading film role was in the 2010 independent thriller Stolen, and this appearance was followed by leading roles in movies such as Million Dollar Arm (2014), Keeping Up with the Joneses (2016), and Beirut (2018), as well a several supporting roles in major movies.
As a voice actor, Hamm can be heard in Shrek Forver After (as Brogan the Ogre) and Minions (as Herb Overkill).
Short facts bout Jon Hamm
Name: Jonathan Daniel Hamm
Born: In St. Louis, Missouri, United States, on 10 March, 1971
Years active: 1996 – present
Background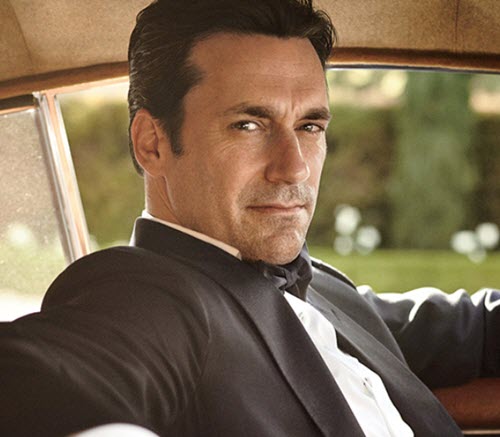 Hamm was born in St. Louis to Deborah (née Garner) and Daniel Hamm. His mother ws a secretary and his father managed a trucking company. Hamm is of German, English and Irish descent.
Hamm's parents divorced when he was two years old, and he lived in Creve Coeur (a city in St. Louis County) with his mother until she died of cancer eight years later. Hamm then lived with his father in Clayton, the county seat of Missouri.
Hamm went to the private preparatory school John Burroughs School in Ladue, where he was a member of the baseball, football and swim teams. At 16, he played Judas in the play Godspell and enjoyed the experience, but he did not take acting seriously in high school.
After high school, Hamm went to University of Texas where he became a member of the Upsilon Chapter of Signa Nu. When he was 20 years old, his father died.
After leaving University of Texas for University of Missouri, Hamm was cast in a production of A Midsummer Night's Dream after answering an advertisement from a theater company.
After graduation
After graduating with a B.A. in English in 1993, Hamm returned to John Burroughs School to teach acting. One of his students there was Ellie Kemper, who would later star with him in The Unbreakable Kimmy Smith. (Hamm played Reverend Richard Wayne Gary Wayne, the man who kidnapped Kemper's character Smith and and imprisoned her in an underground bunker.)
Getting into professional acting
In 1995, Hamm left Missouri to pursue an acting career in Hollywood, moving to Los Angeles with just his car and $150 in cash. He lived with four other aspiring actors, worked as a waiter and acted in plays, notably the production of Timon of Athens by the Sacred Fools Theater Company.
He was representated by the William Morris Agency and went to numerous additions, but found it difficult to obtain roles since he looked older than most people his age. After three years without acting jobs, he was dropped by his agency.
I came in the Dawson's Creek era; it was all about tiny guys who looked like teenagers, and I haven't looked like a teenager ever. So I was, like, auditioning to be their dads. At 25.
– Jon Hamm
Hamm continued waitnig tables and also took a job as a set designer for a softcore pornographic movie. He decided that he would keep pursuing an acting career until his 30th birthday (in March 2001), and then leave if he was still struggling. In the year 2000, he secured a one-episode role in the drama series Providence, but this developed into 19 episodes and enabled him to stop working as a waiter. The year 2000 was also when he made his feature film debut as a pilot in the adventure movie Space Cowboys.
On his 30th birthday, he had already finnished his work with the independant movie Kissing Jessica Stein and was working on the (Mel Gibson starred) war film We Were Soldiers.