In the 2018 comedy Tag, Leslie Bibb played Susan Rollins, the fiancée of Jerry Pierce, the only man in the group who has never been tagged.
Bibb is a United States actress and model, who got her first recurring acting gig in the TV-show The Big Easy (1997). Her protrayal of Brooke MacQueen in the drama series Popular (1999-2001) helped her become more well-known to a wider audience and yielded her a Teen Choice Award.
In the Marvel Cinematic Universe, Bibb plays the reporter Christine Everhart.
Short facts about Leslie Bibb
Name: Leslie Louise Bibb
Born: In Bismarck, North Dakota, United States on 17 November, 1974
Years active: 1996 – present
Background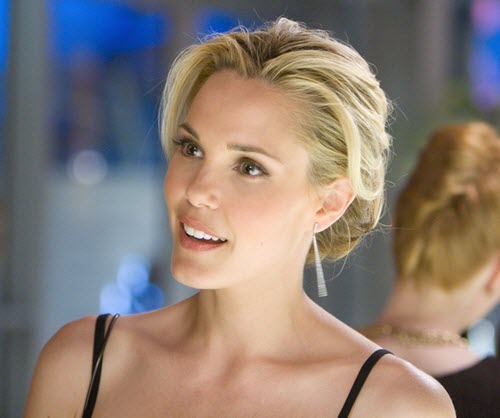 Leslie Bibb was born in Bismarck, North Dakota but lived in Nelson County, Virginia as a young child. Her father died when she was just three years of age. Together with her mother and three older sisters, Bibb eventually moved to Richmond, Virginia where Bibb attended Saint Gertrude High School (an all-girls Catholic school).
Modeling career
In 1990, the 16-year-old Leslie Bibb won a nationwide moderling contest arranged by the Elite Agency and The Oprah Winfrey Show. This led to her working as a model for Elie Agency during the summer between her junior and senior year of high school.
Televison career
Leslie Bibb started getting minor roles in TV-series in the mid-1990s. Her first major job with TV was for the second season of The Big Easy, where she replaced Susan Walters as the leading female character.
In 1999, she became known to a wider audience as she portrayed Brooke McQueen, a lead character in the successful teenage comedy-drama Popular.
Bibb had a recuring role on both ER and Kings, a lead role in Line of Fire, and played a detective on Crossing Jordan until season six. She also starred in the sitcom Atlanta alongside Freddie Prinze Jr and in the GCB show on ABC.
She has a reccurring role as next-door neighbor Viv on ABC's American Housewife.
Film career
1990s and 2000s
Bibb's first film appearance was a small role in the 1997 comedy Private Parts, a movie about Howard Stern. Other examples of movies from her early career are Touch Me (1997), This Space Between Us (1999), The Skulls (1999), and See Spot Run (2001).
In the independent film Wristcutters: A Love Story (2006), Bibb played Desiree Randolph. The film was nominated for the Sundance Film Festival's Grand Jury Prize, two Independent Spirit Awards and the Humanitas Prize.
During the second half of the noughties, Bibb landed roles in movies such as Talladega Nights: The Ballad of Ricky Bobby (alongside Will Ferrell), The Midnight Meat Train, and the direct-to-video film Sex and Death 101. This was also when she made her first appearance as the reporter Christine Everhart in the Marvel's Universe (Iron Man, 2008).
In Confessions of a Shopaholic (2009), Bibbi played against Isla Fisher – and the two actors would later reunite for the 2018 movie Tag.
At the time of writing, Bibb is working on the upcoming Netflix superhero series Jupiter's Legacy.
2010 – present
Bibb returned to Iron Man 2 (2010) to reprise her role from the first Iron Man movie.
Later in 2010, she both starred and co-produced the comedy Miss Nobody. For her performance, she earned a Best Actress Award at the Boston Film Festival.
Other examples of movies on Bibb's resume are The Zookeeper (2011) and the Nextflix comedy-horror The Babysitter (2017).
In 2018, she played Susan Rollins in Tag.
YouTube
Bibb starred as the antagonist in the first season (2016) of Rhett and Link's Buddy System, a YouTube Red show.