In the 2018 movie Tag, Rashida Jones playes Cheryl Deakins, the high school crush of both Bob and Chilli, two of the men involved in the long-running game of tag.
Jones is an actress, writer and producer working with both fiction and documentaries. Among other things, she is know for her roles in the TV-series Boston Public, Parks and Recreation, and The Office (U.S.version).
Short facts about Rashida Jones
Name: Rashida Leah Jones
Born: In Los Angeles, California, United States on 25 February, 1976
Years active: 1997 – present
Background
Rashida Jones was born in Los Angeles in 1976 and grew up in the afluent Bel Air neighborhood.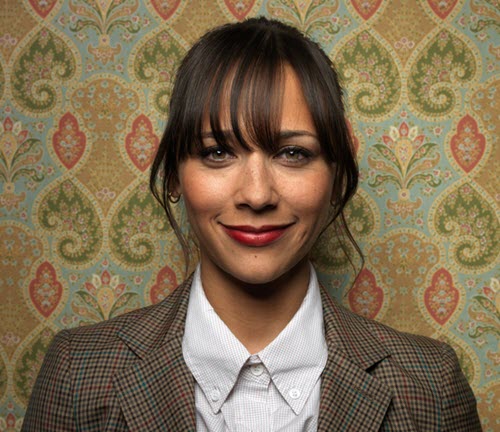 She is the daughter of actress Peggy Lipton and muscian/record producer Quincy Jones, who were married in 1974-1990, and had two daughters together – Rashida and Kidada. Just like her sister, Kidada is an actress. Rashida and Kidada are also half-sisters to five siblings on their father's side, including the model Kenya Jones and the music producer Quincy Jones III.
As a child, Rashida Jones liked to read books, sing, play the piano and use computers. She attended The Buckley School in Sherman Oak, California where she made the National Honor Society and was involved with theater.
After their parent's separation, Kidada stayed with their father while Rashida moved with their mother to Brentwood, another affluent neighborhood in Los Angeles.
After high school, Rashida Jones attended Harvard University where she studied religion and philosophy, and graduated in 1997. At Harvard, she was a part of the Hasty Pudding Theatricals, the Harvard Radcliffe Dramatic Club, the Harvard-Radcliffe Opportunes, the Signet Society, and the Black Students Association. One example of a theatre piece in which Jones performed while still in college is Ntozake Shange's highly acclaimed play "For for colored girls who have considered suicide / when the rainbow is enuf".
Film career
Examples film appearances from her early career are If These Walls Could Talk 2 (2000), Full Frontal (2002), and Now You Know (2002). After leavin the TV-series Boston Public, she landed a role in Death of a Dynasty, a satire of the hip hop music industry.
Other examples of films where we can see Jones:
The indie-flick Brief Interviews with Hideous Men, which screened at the 2009 Sundance Film Festival.
I Love You Man, a comedy where Jones appeared alongside Paul Rudd and Jason Segel.
The Social Network (2010), where she played a legal associate involved in the defense of Mark Zuckerberg
Monogamy (2010), a drama in which she starred
Friends with Benefits (2011)
Our Idiot Brother (2011), where Jones played the girlfriend of Zooey Descannel's character
Celeste and Jesse Forever (2012), a film that she both co-wrote and starred in
Shows and series
In 1997, Jones appeared in The Last Don, a mafia-themed miniseries based on Mario Puzo's novel of the same name.
Between 2000 – 2002, she appeared in 26 episodes of Boston Public, where she portrayed Louisa Fenn, the sassy high school secretary who briefly dated Milton Buttle.
Other examples of shows in which we can see Jones are Little Black Book, NY-LON, and Wanted (a TNT police drama).
By the mid-2000s, Jones were contemplating to go back to school to study public policy, but decided to stay with acting when offered the role of Karen Filippelli in the United Staes version of the mockumentary The Office. She can be seen in the seasons 3 – 5 and 7.
In Parks and Recreation, also a mockumentary, Jones played the nurse Ann Perkins from the first episode to midway through season six, and then returned again for the final episode.
In the TBS comedy series Angie Tribeca, Jones played the lead role of police detective Angie Tribeca – a 10-year veteran of the LAPD's RHCU (Really Heinous Crimes Unit).
Online comedy series
Jones has appeared in several online comedy series. She did for instance star in Funny or Die's Speak Out alongside Natalie Portman, and guest-starred in two episodes of Web Therapy. In Prop 8 – The Musical, she satirised California's anti-gay marriage initiative. She has also voiced Hotwire in the comedy series The Awesomes.
Writing / creating
Exemples from Jones career as a writer/creator:
Jones used to work as a contruting editor for Teen Vouge magazine.
Jones is the creator of the comic book series Frenemy of the State. The comics are co-written with Nunzio DeFilippis and Christina Weir. In 2009, Jones sold the screen rights to Universal Pictures and Imagine Entertainment.
Jones wrote the screenplay for the comedy Celeste and Jesse Forver, which was turned into a movie released in 2012.
For the Nosedive episode of Black Mirror, Joes and Michael Schur wrote the teleplay from a story by Charlie Brooker.
In 2015, Jones produced and partly directed the documentary Hot Girls Wanted, about teenage girls in pornographic films. After the documentary's premier at the Sundance Film Festival, it was purchased by Netflix.
Jones wrote chapter 36 of her father's biography Q: The Autobiography of Quincy Jones.
Her documentary film Quincy, about her father, debuted on Nextflix in 2018. For her work, she earned a Grammy Award.