Tag is a United States comedy film directed by Jeff Tomsic, which premiered in June 2018. It's written by Rob McKittrick and Mark Steilen, based on a true story published in The Wall Street Journal.
The movie is about a group of men who spend one month a year playing tag with each other. In the movie, they are played by Jeremy Renner, Ed Helms, Hannibal Buress, Jake Johnson, and Jon Hamm.
Released in June 2018, the movie received mixed reviews but grossed over 78 million USD worldwide on a 28 million USD budget.
Before the credits roll, you can see photographs and video clips showing the real group of (ten, not five) men from Spokane, Washington whose annual month-long game of tag inspired the film.
Trailer
Short facts about Tag
Based on: The article It Takes Planning, Caution to Avoid Being It by Russell Adams, published in the Wall Street Journal in January, 2013
Director: Jeff Tomsic
Producer: Todd Garner, Mark Steilen
Production company: New Line Cinema, Broken Road Productions
Story by: Mark Steilen
Screenplay by: Rob McKittrick, Mark Steilen
Cinematography by: Larry Blandford
Editing: Josh Crockett
Music by: Germaine Franco
Starring:
Ed Helms
Jake Johnson
Annabelle Wallis
Hannibal Buress
Isla Fisher
Rashida Jones
Leslie Bibb
Jon Hamm
Jeremy Renner
Distributor: Warner Bros Pictures
Release date: June 15, 2018 in the United States
Running time: 1 hour and 41 minutes
Country: United States of America
Language: English
Budget: 28 million USD
Box office: 78.1 million USD
Home media: Relased on digital copy on August 17, 2018 and on DVD and Blu-ray on Augusti 28, 2018
Plot
INCLUDES SPOILERS
In 1983, when they were nine years old, a group of five boys started a game of tag. Since then, Hogan "Hoagie" Malloy, Bob Callahan, Randy "Chilli" Cilliano, Kevin Sable and Jerry Pierce, have always been playing tag with each other during the month of May every year. The last person tagged during the month of May will start the next tagging season as "it".
When the movie starts, they are all grown up, and Hogie is "its" since the previous May. He tells Bob (who is now a CEO of an insurance company), Chilli and Kevin that they need to band together and tag Jerry, since he has never been tagged so far and is planning to leave the game after this year since he is getting married.
Wall Street Journal reporter Rebecca Crosby who is doing a piece on Bob, and is thus dragged into the world of tag as Bob embarks on the quest to finally tag Jerry.
New rules
The guys, Crosby and Hoagie's wife Anna travel to the guys hometown Spokane where Jerry will soon marry his fiancee Susan at the local country club. None of them have been invited to the wedding, since Jerry doesn't want to get tagged or targeted during the ceremony. The gang aggrees to not play tag at any wedding-related event and are invited to the wedding.
Initial attempts at tagging Jerry
Naturally, the gang continues their attempts at tagging Jerry everywhere except for the wedding-related events. Among other things, they sneak into his house at night but are tricked to leave.
Hoagie, disguished as an elderly woman, ambushes Jerry at the mall but fails to tag him.
After a golf car chase from the country club, Hoagie, Chilli and Kevin end ups caugh in Jerry's traps in the woods.
The gang attempts to tag Jerry at his AA meeting on the day of the wedding, but Jerry outruns them and hides inside the cummunion wine storage.
At the AA meeting
During rehearsal dinner, Susan told the gang that she and Jerry is expecting a child.
With Jerry hiding in the wine storage, Susan appears and berates the gang for risking the wedding. She then displays symptoms of having a miscarriage. Chilli is convinced that it is a ruse, but the others believe the situation to be autentic, and Jerry can come out to be with Susan without being tagged. When the bethrothed couple has left, the gang receives a text informing them that the wedding is postponed because of Susan's health.
Anna is suspicious and snopes around at Instagram, where she creates a false profile for Bob in order to get accepted into the private account of one of the bridesmaids – whom she knows have a crush on Bob. Her plan works and the private account reveals that the wedding hasn't been postponed.
Agry after being lied to, the gang decides to crash the wedding.
At the wedding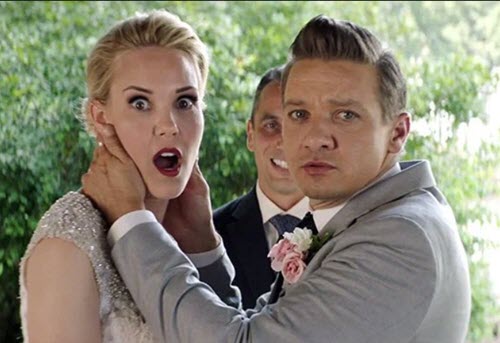 As the gang arrives to the country club, Susan confirms that it was all a hoax – she was never pregnant.
At the end of the wedding ceremony, when the doves have been released, an angry Hoagie decides to tag Jerry as revenge for his lies. Hoagie charges Jerry, but ends up tackling the pastor instead and goes unconcious.
Jerry believes Hoagie's unconciousness to be just another ruse, while Anna calls for an ambulance, saying that Hoagie's condition is serious.
The hospital
Everyone goes to the hospital where Hoagie is being cared for, and he reveals to them that he has liver cancer and might not be alive for next year's tagging season. He also reveals that he lied to them about Jerry planning to quite the game, since he wanted to unite the group in one last attempt to tag him.
At the behest of his old friends and new wife, Jerry finally allows Hoagie to tag him.
The group then continues the game of tag at the hospital, and briefly change to rules to allow Anna, Susan and Rebecca to join in.
Cast
Ed Helms as Hogan "Hoagie" Malloy

Jaren Lewison as Teen Hoagie
Braxton Bjerken as Young Hoagie

Jeremy Renner as Jerry Pierce

Maxwell Ross as Teen Jerry
Brayden Benson as Young Jerry

Jon Hamm as Bob Callahan

Elijah Marcano as Teen Bob
Braxton Alexander as Young Bob

Jake Johnson as Randy "Chilli" Cilliano

Kevin Moody as Teen Chilli
Tyler Crumley as Young Chilli

Hannibal Buress as Kevin Sable

Xavion Shelton as Teen Kevin
Legend Williams as Young Kevin

Annabelle Wallis as Rebecca Crosby, the reporter
Isla Fisher as Anna Malloy, Hoagie's wife
Rashida Jones as Cheryl Deakins

Kella Raines as Teen Cheryl
Th'Yana Star as Young Cheryl

Leslie Bibb as Susan Rollins, Jerry's fiancée
Steve Berg as Louis
Nora Dunn as Linda, Hoagie's mother
Brian Dennehy as Mr. Cilliano, Chilli's father
Thomas Middleditch as Dave
Lil Rel Howery as Reggie
Sebastian Maniscalco as Pastor
Carrie Brownstein as Therapist (uncredited)
Production
Jeff Tomsic was recruited as director in March 2016, and Ed Helms was cast as Hoagie. Jeremy Renner and Hannibal Buress joined the cast in April 2017, followed by Jake Johnson and Annabele Wallis in May, and Jon Hamm, Isla Fisher, Rashida Jones, and Leslie Bibb in June.
Filming commenced in June 2017 in Atlanta, Georgia, USA.
Box office
The total worldwide gross for Tag was 78.1 million USD. Of this, 54.7 million USD came from the United States and Canada.
Tag also generated 6.3 million USD from home video sales.
This made Tag a modest success for its investors.  It did not produce a large profit but is likely to have broken even and made a small profit when income from Video sales and television rights have been included.  No exact numbers are know.
Investing in movies
Do you want to invest in movies such as Tag?  In that case, you will have to buy the stock in a large studio such as Disney or Universal.  You can not invest directly in individual movies.  The large studies do not accept money from retail investors.  They prefer to allow a few very wealthy individuals to invest in their movies.   Investing directly in Indy movies is sometimes possible, but doing so is very high risk, and I do not recommend doing so.  A lot of Indy movies end up losing money.
Buying stock in Disney, Universal and Sony is very easy.  The companies are all publicly traded, and you can buy stock using eTrade, Robinhood, TD Ameritrade or any other broker.   If you use RobinHood you can buy stock in these companies without having to pay any extra trading fees.  You simply pay the stock price.  Nothing more.
Opening weekend
In the United States and Canda, Tag premiered on June 15, 2018, which meant that it went up against Incredibles 2.
It was projected to gross within the 12 million – 16 million USD span during its opening weekend, when it was shown in 3,382 theatres.
Tag made 1.3 million USD from Thursday night previews and 5.4 million on its first day. For the weekend, the total landed on 14.9 million USD in Canada and the United States, placing it third at the box office and well within the projected span.
Trivia
Filming commenced in June 2017, and in July Jeremy Renner fractured both his right elbow and his left wrist after falling 20 feet during a stunt. He performed the stunt a second time before going to hospital to have his injuries tended to. The fractures required casts, but the casts can't be seen in the movie since they were edited out in post-production with the help of CGI.